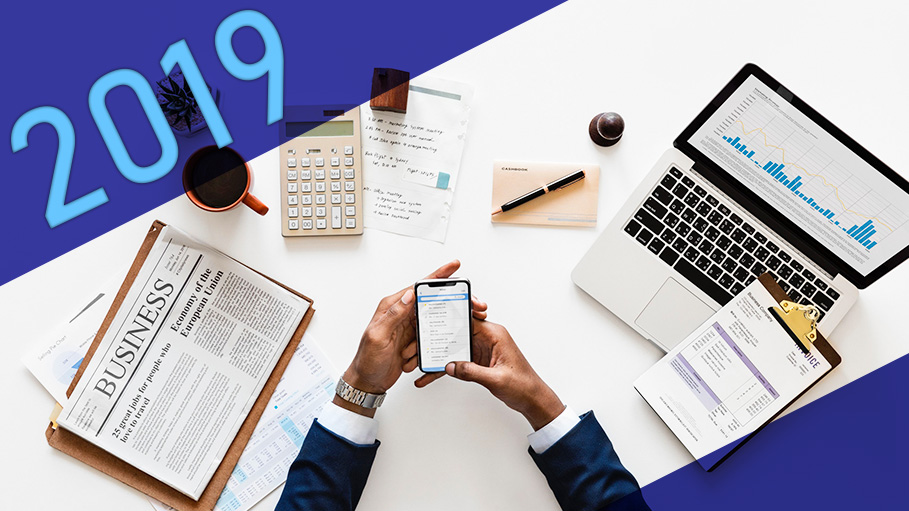 As we are rounding into the New Year, it's time to start thinking about how to execute an excellent digital marketing plan for 2019. With new trends on the rise and outdated marketing strategies making its way toward the exit, it's essential to conduct your research and implement a digital marketing strategy that's strong, relevant, and innovative–giving you a leg up in the marketplace against your competitors. Now is the time to examine the most successful marketing channels and piece together the new tools, features, and technology that will allow your marketing plan to thrive.
Crafting Your Plan
While devising a new digital marketing plan that matches with recent trends isn't always an easy venture, it's essential that you use a reputable digital marketing resources to aid you in your research. It also is beneficial to take a look at your analytics data along the way as well. By taking a closer look at your current marketing strategies and how well they performed (and maybe didn't perform), you'll be able to better refine your digital marketing plan in the coming new year. Now, let's take a look at some key tactics and strategies that you should certainly include in your 2019 marketing plan:
Implement new content mediums:

To thoroughly expand your digital marketing reach, it may be wise to take a look at new content mediums. To find the optimal platform for content expansion and implementation, try taking a close look at what your current customers are using and what platforms they spend most of their time on–i.e., social media outlets. To start, check out the following platforms: Facebook, Instagram, YouTube, and Podcasts.
SEO Strategies:

Improving your client's websites with SEO strategies is something that should 100% be added to your 2019 digital marketing plan. Be sure to extend your resources to rank highly for relevant keywords; however, it's essential that you do this ONLY if these keywords are have proven to lead to user engagement with your website. The last thing that you want is to exhaust your efforts on SEO practices that aren't generating results. For improved SEO marketing strategies, take a closer look at the customer base. What drives them to make purchases? How do they look for your client's specific products? If you can find an answer to these questions, you'll be able to better identify where your SEO practices fit in your marketing plan.
PPC:

The future of PPC is great, and with new updates and advancements, it should definitely be included in your 2019 digital marketing plan. To up your PPC game in the new year, it's essential that you do the following: utilize social posts to create search ads; use your remarketing campaigns on search channels and social channels; track your ROI on each platform.
Create content for smaller audiences:

While the main goal in digital marketing is to target and reach large audiences to generate traffic and sales, it's time that we start thinking a bit smaller. Even though it sounds counterintuitive, creating consistent and relevant content for smaller audiences is going to be essential in the 2019 market. From podcasts to YouTube channels, social media, and everything in between, there are so many platform options for audiences to generate their attention to. Depending on preferences, this generates smaller and segmented audiences groups with specific needs. It's crucial that we create fantastic content that's specifically generated for each of these smaller audiences.
Now, these are just a few suggestions to take into consideration for your 2019 digital marketing plan. As each company and client's needs vary, it's recommended that you spend ample time researching before you create a definitive strategy.
Author Bio:
Manny Janero, of Click Elements, has been in the online marketing industry since 2007. His experience derives from years of account management, data analysis and structuring of high-cost online marketing campaigns, in all major search engines like Google, Bing & Yahoo. He has successfully developed and managed large volumes of Pay Per Click campaigns for both local and national clients, in addition to managing local and national SEO campaigns. Having generated lead returns of over $15 million, Manny has acquired extensive knowledge of effective online marketing strategies within many different business verticals, including eCommerce businesses. He also has extensive experience in online advertising channels like Amazon, AdRoll, and Steelhouse. Manny is Google-Certified with a passion for digital marketing and generating successful results for his clients.