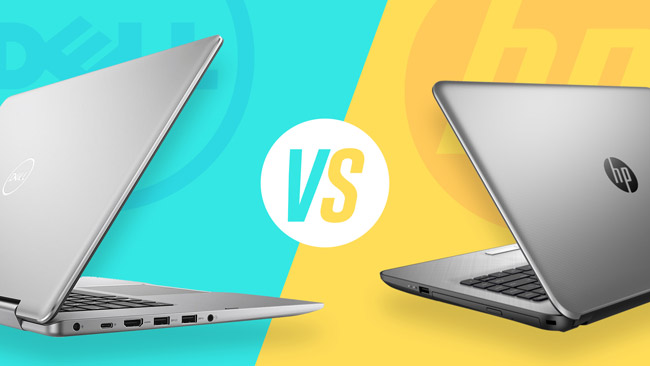 Dell and HP have maintained their claim as being among the best laptop manufacturers in the world in the past decade. They have some of the highest sales in this product category thanks to their continuous innovations, effective marketing campaigns, and competitive pricing. If you are in the market for a new unit, then you are probably asking, "Which is better Dell or HP?" Let's look at a few criteria to get a better idea of how they compare with each other.
Failure Rate
The Consumer Reports National Research Center conducted a product reliability survey in 2017. They computed the estimated breakage rate by brand at the end of the second year of ownership. The findings are quite interesting. According to the study, Apple leads in reliability as only 10% of the units broke down. This was followed by Samsung and Acer with 16% and 18%, respectively. As for the brands that we are focusing on, HP ranked 4th with a 20% failure rate while Dell ranked 7th with 22%. So the likelihood of breakdowns is not really that different.
Customer Service
Since most laptops will eventually encounter a problem, consumers should be concerned about how the company will support them. Customer service is a big deal when you are spending hundreds or thousands of dollars on a machine. You expect them to serve you for a long time and work as advertised. You want to be heard and compensated if you encounter issues. According to Laptop Mag, Apple is again at the head of the pack with a score of 91. Razer is second with 88 and Dell is third at 78. HP is down at 7th with a score of 65.
Planned Obsolescence
One of the most frustrating things about modern electronics is that they don't seem to last as long as they used to. Household appliances tend to last much longer such that you don't need to buy a new one for a decade in most cases. With phones and laptops, you are almost forced to get a new unit every 2 to 4 years. Make sure that you check whether the model that you are eyeing can be upgraded should you need a more powerful machine in the future. The storage drive, the battery, and the memory modules should be easy to access. Indeed, the whole back panel should be a cinch to remove for troubleshooting. Spare parts should be readily available. Popular models usually enjoy good third party support.
Value Proposition
This will be dependent on the buyer. What one person values may be different from another. If you like good design and are willing to pay for it, then some models will appeal to you more than others. Both brands have offerings in the premium category that will satisfy the most demanding users. They also have budget options for those who are keen on savings money. Prices can change drastically and differ with each seller so you have to compare individual product listings to get the best deal.
So which is better Dell or HP? According to the data, HP slightly edges Dell in reliability while Dell is miles ahead of HP in customer support. Get the popular and easily upgradable models to enjoy your laptop longer, and always compare deals to get the most bang for your buck.